Home » Bookbinding »
Perfect Binding vs. Saddle Stitch Binding: Which is the Best Option?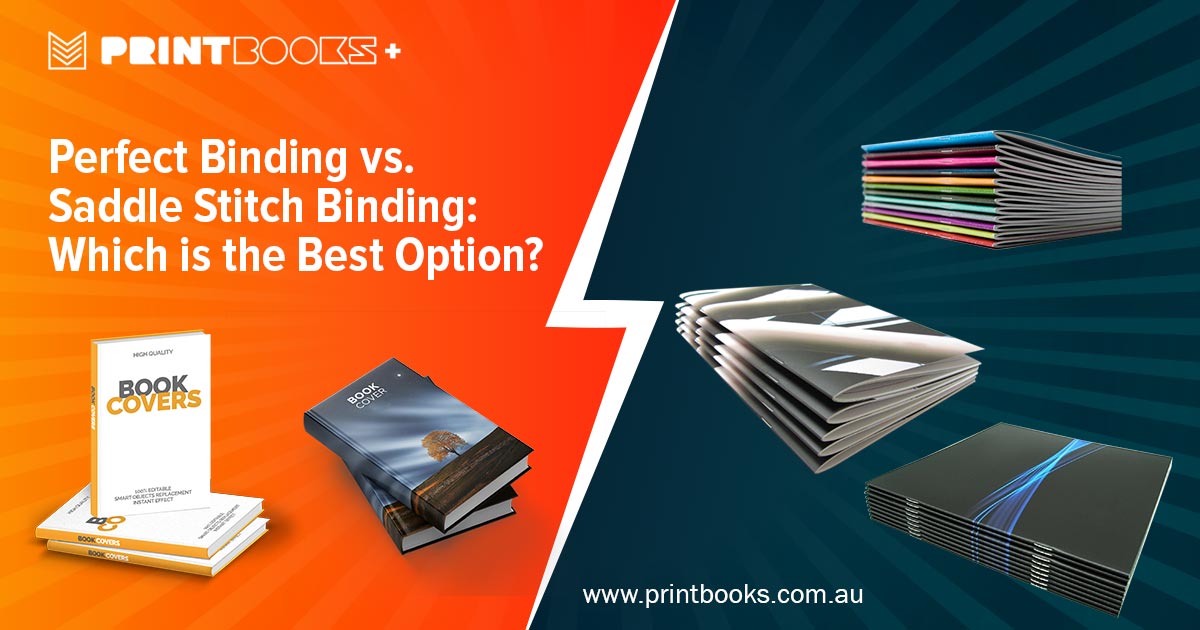 If you are looking to get a book printed, you certainly have to look at options for book binding. You will be surprised at the variety of options available for binding. It can get confusing to decide which is the best book binding option for your book. You can choose from perfect binding, binding for hardcover books, wire binding, spiral binding, saddle stitch binding, etc.
The two most popular types of binding used in book printing in Melbourne are perfect binding and saddle stitch binding. We deep dive into these and explore their advantages and disadvantages so you can decide which one of these two book bindings is ideal for your book.
What is Saddle Stitch Binding?
In this method of book binding, the sheets of the book are nested inside one another and stapled along the inside fold. It is mostly used for brochures, programs, thin magazines, etc. These are ideal for book and booklet printing of up to 48 pages. As the pages are cut flush with the cover, as you go to the center of the book the pages get smaller in size. This is called creep. With a higher page count, the creep will be far more noticeable and hence, this method is ideal for thinner books.
Pros and Cons of Saddle Stitch Binding
Let us consider the advantages and restrictions of this book binding technique.
Merits of Saddle Stitch Binding
Saddle stitch binding is one of the most widely available techniques and is very cost-effective. So, it is ideal for regularly published books and booklet printing.
The delivery of books bound using this method can be fulfilled in far less time than many other book binding techniques.
Demerits of Saddle Stitch Binding
There is a limitation on the page count with this method as the staples can fall off easily with a higher number of pages and also because of the creep that sets in with more pages.
Customizability with paper type is much lower with saddle stitch binding. This is because the two pages on each side of the fold will be the same. So, you can't, for example, have colored sections in this method.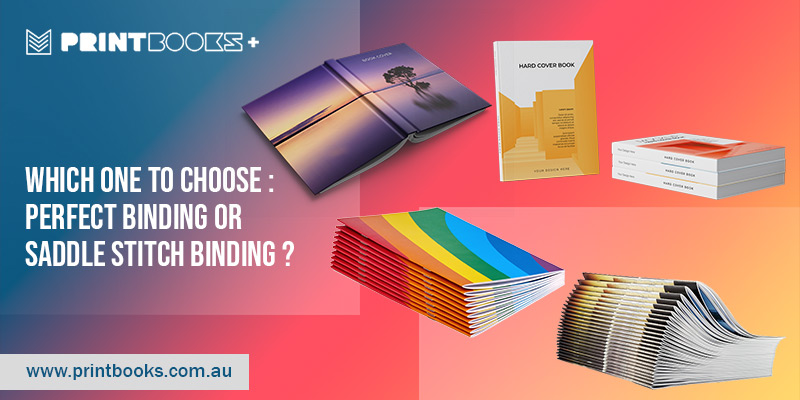 What is Perfect Binding?
In perfect binding, the book has a flat spine to which the books are glued with adhesives like PUR glue. It is best suited for books with a page count of over 96 pages. Perfect binding is used for most soft-cover books like magazines, catalogs, manuals, comics, etc. Sometimes, this technique is also used for hardcover books.
Pros and Cons of Perfect Binding?
Let us look at some of the merits and demerits of perfect binding.
Merits of Perfect Binding
Perfect binding gives a cleaner and more professional appearance to the book.
This technique of book binding also makes the book more sturdy and durable.
As the spine of books bound using this method is flat, it can be used for printing information about the book. When the book is placed vertically with the spine side out, the copy on the spine helps the book to stand out. So, this is great for books that need to be displayed in bookcases, bookstores, etc.
There is more scope for customizability with the pages in perfect binding. For example, if you are getting a diary printed, you can use pages of different colors, textures, and finishes when using perfect binding.
Demerits of Perfect Binding
In comparison to saddle stitch binding, perfect binding is a little more expensive. While this may not be a factor when getting just one or two books printed, it will be a significant amount if you are placing a print order for a large number of books.
When opting for perfect binding for book printing in Melbourne, keep in mind that this method has a higher turnaround time than saddle stitch binding.
Perfect binding does not work very well for books that need to be read hands-free like recipe books, instruction manuals, etc.
Which One to Choose: Perfect Binding or Saddle Stitch Binding?
There is no right or wrong choice between perfect binding and saddle stitch binding. Both are easily available, and both have their pluses and minuses. This choice will depend on factors like the desired final look of the book, the budget for printing, and the purpose of the book. For example, if you want a more classic look and a printable spine, go for perfect binding. Or if you are looking for a faster and cheaper print, opt for saddle stitch binding. Both techniques are widely available as options for book printing in Melbourne.
Winding Up
Both perfect binding and saddle stitch binding have their advantages and are suited for different kinds of books. Using the above analysis, you can conclude which of the two types of book binding will be perfect for your book. Whichever book binding technique you finally decide to use, you will need to engage a company with experience and expertise in book printing in Melbourne.
Our team at Print Books not only delivers high-quality book and booklet printing but also offers advisory services on the binding technique. We believe in offering our customers solutions that are tailored to their needs. We are experts in delivering premium printing and book binding services at highly competitive rates. The best part is you get all this with a very low turnaround time. Book a free consultation with our team now.