Home » Bookbinding »
When to Choose Hardcover Books and the Benefits of Hardcover
When you walk past a bookstore why are your eyes drawn to the shiny hardcover books on the display? While waiting at a lounge, why do you find yourself picking up the hardcover coffee table books and perusing them? This is the magic and pull of hardcover books. The editor of Bookseller magazine said in the Guardian that "the hardback is a mark of quality…it shows booksellers and reviewers that this is a book worth paying attention to".
Till a few years ago, all books came in hardback format. Over the last few years, many other types of bookbinding have come into the market, but hardcover binding still has a special place in the world of books. Let us see what makes this format a cut above the rest and, in what situations this format is best suited for bookbinding.
What is Hardcover Binding?
There are many types of bookbinding that are used today. Some of these have been in practice for thousands of years! There are four techniques that are most used in current times:
Saddle-stitched – This is the most widely used and is a technique that is easy on the pockets. A saddle-stitched book has two pieces of wire passed through the centerfold of the book to grip the pages together.
Perfect binding – In this method, the pages are held together using PUR glue and are then attached to the cover. This technique is called perfect binding as, during the binding process, the book pages and cover are cut to the same size so that they align perfectly with each other.
Spiral binding – Books bound in this fashion have their pages punched with holes along the inner margin and a plastic wire inserted through the holes to hold the pages together.
Wire-O binding – This method is similar to spiral binding. Instead of a plastic coil, a looped metal wire is used, giving the book a more professional look. In wire-o binding, as in spiral binding, the book can be kept flat on a surface when open and can also be folded 360 degrees without spoiling the book.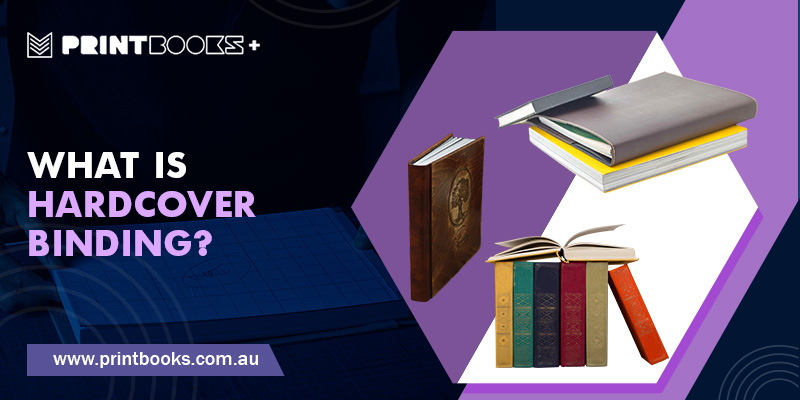 Hardcover binding is a longer and more complex process. It involves the creation of the hardcover using cardboard paper. The cover of the book is then printed and laminated and stuck on the outside of the hardcover. This is followed by the inside pages getting printed and cut to uniform size. These are then stuck together and to the hardback using PUR glue.
The complexity of the process makes hardcover binding a more expensive option than the other types of binding. But it is still a very popular option. Let us see why.
What are the Advantages of Hardcover Binding?
There are many benefits of hardcover binding which make it a top choice for many books. Few of them include:
The main reason is that hardcover binding increases the longevity of the book. Hardcover books can withstand frequent handling and can have pride of place for years on your bookshelf. This durability makes hardback a great option for children's books, yearbooks, and academic books.
Hardcover binding lends a book a look of credibility and a touch of class. Hardback books stand apart from books bound using other techniques. This is one of the reasons you see books with hardbacks on the display in bookstores. So, if you are thinking of gifting a book or printing a special book for a birthday or anniversary, hardback binding is what you should choose.
The unique process of creating the cover for hardback books allows different options of finishing for the cover that are not available in other types of binding. You can choose between glossy and matte, and also from custom leather, marbling, handwork, and other options.
We have seen the advantages of hardback binding. But, given that it is a relatively more expensive option, let us see when to choose this type of bookbinding.
When to Choose Hardcover Binding?
Hardcover binding gives you top-notch quality books. But is this binding the best choice in all cases? Let us check them out.
Hardcover binding is a good option for books that have more than 50 pages. It is particularly suited for thicker books as it helps increase the life of the printed book. However, for books with very few pages, you can consider one of the other types of binding.
If you are getting a book printed that will undergo a lot of handling – like children's books – then hardback binding is an ideal choice. It also works very well for books you expect to be on the shelf for many years like collector's editions or yearbooks.
Hardcover books have a flat spine that can be customized, and which will be easily visible when your book is placed on the shelf. So, if you are looking at creative covers and spines then hardcover binding is the best option.
Books bound as hardbacks look elegant and classy. So, if you are looking at books that need to be gifted no other kind of binding will give the look that hardcover binding does.
Coming to an End sheet!
Hardcover binding has many advantages and is the best choice if you are looking for durability and quality. It is versatile and lends itself well to all types of books. It also allows for amazing creativity with the cover and spine of the book, making these books a very attractive addition to your bookshelf.
If you want your money's worth you should opt for a printer who has the experience and infrastructure to deliver high quality printing and binding. You get all this when you come to Print Books. With over 20 years of experience, the team has built a fantastic record over the years for high-quality printing with fast turnaround times. We use the latest technology to deliver on our commitments to customers. Our creative team has the knack for understanding your needs and designing books and covers that will give you 100% satisfaction.